For any brand or business looking to prosper in China, there is one platform that is essential to master..
Think China, think WeChat.
Since its release in 2011, WeChat has been a dominant social media and payment platform in China that has been further enhanced with the launch of the WeChat Mini Program in 2017, and as a result further ingrained itself into the day-to-day life of Chinese citizens.
What makes WeChat Mini Programs unique, is the direct link for brands to track consumers - from the first click right through to a sale.
But what exactly are WeChat Mini Programs, and how can brands use them to reach Chinese consumers?
What is a WeChat Mini Program?
WeChat Mini Programs are small apps that load within WeChat itself and have taken China by storm with now over 400 million users accessing WeChat Mini Programs every day.
Just like a regular mobile app, WeChat Mini Programs can fulfil a wide range of functions such as to book travel services, view real estate portfolios, purchase products and even access government services.
The functionality, user experience and branding of a Mini Program can be customised in the same way as a native app that allows brands to create bespoke, on-brand experiences within WeChat - something that the likes of Dior, Knight Frank, Visit Britain and Student.com have all taken advantage of in recent years.
Access & Discoverability of the WeChat Mini Program
Within the WeChat app, users can easily access their saved and recently used Mini Programs by swiping downwards on their phones (see below).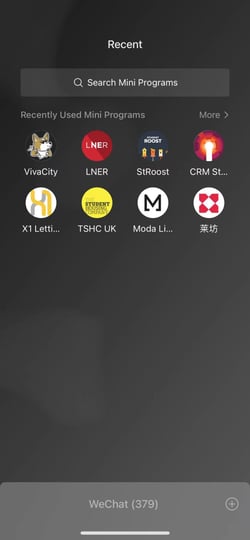 With there being no 'app store' for Mini Programs, there are a variety of ways to discover them; users can scan QR Codes, discover the mini program via Chinese social media & influencers, share program cards in WeChat groups and use WeChat's search and discoverability functions.
Quite often, international websites load very slowly or may not even load at all for Chinese internet users if the brand has not got an ICP license (not required for the WeChat Mini Program), nor hosting the website in Mainland China.
More recently, brands are adding WeChat Mini Programs to their desktop (see below) and mobile websites to enable Chinese website visitors have a better digital experience.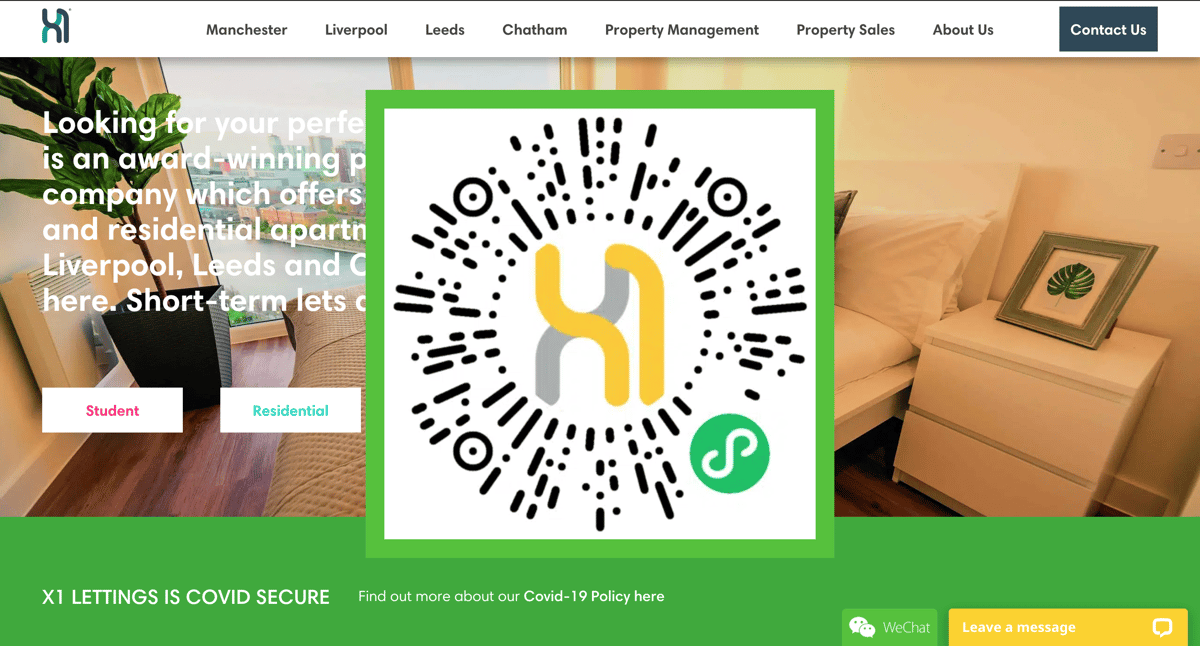 What can WeChat Mini Programs be used for?
WeChat Mini Programs offer brands a cost-effective way to deliver content, services and products to hundreds of millions of active users. Popular types of Mini Programs include:
Lifestyle - To help consumers access, book and enjoy a vast range of services. From booking flights and managing finances to ordering a lunchtime KFC!

Offline to Online discovery (O2O) – Museums, restaurants and bike hiring services have greatly improved the customer experience by giving users access to Mini Programs directly via QR codes.

Dynamic Content – Real Estate & Student Accommodation content can change quickly. Showcasing the latest properties to prospective buyers or renters at a click of a button can be the difference between winning or losing a sale.

E-Commerce - Much like a standard e-commerce mobile phone apps. A significant advantage of an e-commerce Mini Program (for brands and consumers) is the integration with WeChat Pay that allows consumers to discover a brand, browse their range, and purchase a product - all without leaving the WeChat app.

Mini Games - The vast majority of Mini Games are simple, addictive games with prominent social elements (for example, online leaderboards or shareable achievements).
Benefits of WeChat Mini Programs for Consumers
Fast, small and convenient. It's easy to see why Chinese consumers love Mini Programs. Here are some of the key advantages:
Phone Storage

- Mini Programs are hosted on Tencent's servers, that means they only use a small amount of phone storage and data.


Convenience - All Mini Programs are accessed via the WeChat platform, providing an effortless interaction.


Efficiency

- Mini Programs are simple to use and easy to share with friends.
Benefits of WeChat Mini Programs for Brands & Businesses
The Chinese market can be difficult to navigate for international businesses. Reaching consumers in particular can be challenging, that is why so many brands have turned to WeChat Mini Programs as the solution - from tracking marketing activities to full booking and CRM integrations, brands are utilising Mini Programs to create value across the business.
Building Bespoke Consumer Experiences
Mini Program customisation allows businesses of all sizes to create original brand experiences on WeChat.
British cosmetic giant Feel Unique used its Mini Program to launch a group buying campaign with existing customers benefiting from a generous discount if they persuaded a friend to buy the same product at the same price, increasing product awareness and saving on advertising costs.
The advantages of Mini Programs are not just reserved for multinational brands. Mini Programs have delivered tangible benefits to businesses within the real estate, travel & tourism and student accommodation sectors.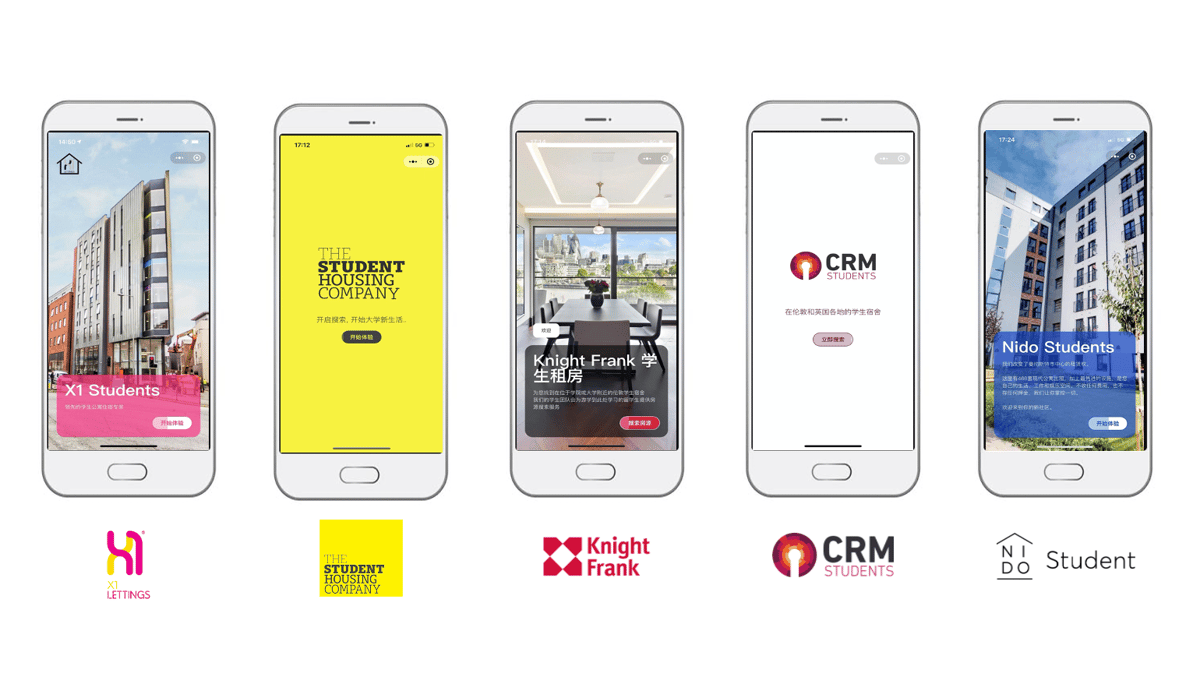 Direct Route to Brand
WeChat Mini Programs are crucial when it comes to turning marketing leads into closed sales that is particularly important for student accommodation sales and real estate as an example. With customisable lead generation forms that help to avoid direct sales leakage to agents and 3rd parties, Mini Programs help businesses manage enquiries from the first contact to point of purchase.
Track Leads & Marketing Conversions
WeChat Mini Programs allow brands to track a consumers entire purchase journey - from initial interactions and leads, right through to a sale. They can be integrated with CRM tools to track clicks, conversions and more - enabling brands to accurately measure the impact of individual marketing activities.
WeChat Mini Programs provide brands with the data to inform future campaigns and strategies - giving them a competitive edge in one of the most challenging markets in the world!
The future of WeChat Mini Programs
In 2020, the number of transactions on WeChat Mini Programs doubled year-on-year to the tune of $250 billion – and it's clear where WeChat sees the future of Mini Programs.
In the past year, WeChat has rolled out several new features to the Mini Programs platform. These range from new consumer trade protection, right through to innovative sales methods such as live-streaming.
For businesses of all sizes, the increased adoption of WeChat Mini Programs for e-commerce should be welcomed. The more Chinese consumers use WeChat to discover and purchase new products and services, the greater the opportunity there is to sell direct.
WeChat should be part of any brands marketing strategy in China - with Mini Programs playing an essential role as a sales conversion tool for brands that wish to sell directly to consumers as well as track buying behaviour.